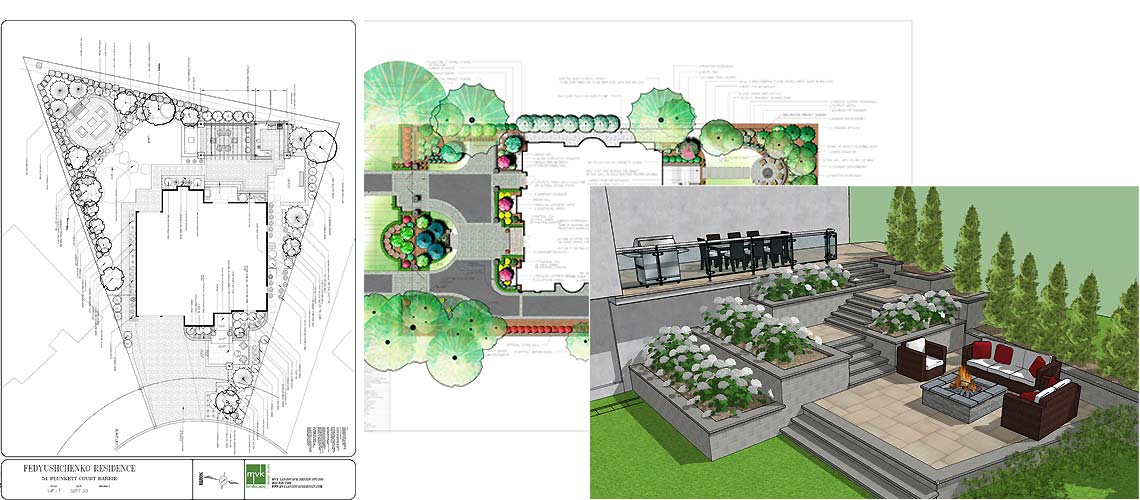 On-site consultation
On site meeting with one of MVK landscape designers.
Discussion of  your vision, requests and potential for your property.
Assess scope of work.
Design fee quoted.
With the defined project components from our consultation, we'll create a set of project drawings.
Landscape Design Process and Stages
A landscape design project can range from a concept / schematic design providing  ideas about what to do with the property, to master plan drawings showing a specific vision for the site with details and  specifications, to a construction details and permit drawings that the homeowner or a contractor can use to create the entire project.
Stage 1: Base plan/ site analysis
Preparation of a base plan using information taken from the plat of survey and actual measurements.
 Inventory of the site for the type and condition of existing elevations, plant materials, soil and other site features, such as topography and important views.
 Location of public utilities, boundary lines and easement locations.
 Photographs of the site for reference throughout the project.
Stage 2: Design Concept
Formulation of design ideas and creation of scaled ground plans and sketches defining the general concept of landscape design for the property.
Client's perceptions and suggestions are always taken into consideration.
Layout of the planting beds and possible plant material to be used
Overall layout of all hardscape surfaces: patio, walkway, driveway, porch, deck, pool, cabana, shed, etc.
Layout of all necessary retaining walls and steps
Inspirational pictures illustration ideas.
"Budget Study" based on the Concept Plan
Stage 3: Design Development / Master Planning
Revisions to drawings after approval of the Concept Plan and preparation of other necessary drawings such us:
The layout of hard surfaces and structures defining dimensions and materials to be used;
Layout of all planting beds identifying names and locations for all proposed, existing and  transplanted plant material;
Detailed Plant List specifying plants by botanical name, common name, quantity and sizes based on the design. Colour photographs of the plants used (optional).
Concept elevations and/or pictures illustrating design ideas for architectural structures such us gazebos, pergolas, sheds, pool houses, decorative walls, screens, etc.;

Grading plan;
Drainage plan;
Lighting plan;

Coordinating the work designed by other consultants and specialists;
Preparation electronic drawings suitable for relevant authority submission. (Permits applications and meetings);
Perspective (3D) drawings and illustrations for better visualization
Stage 4: Technical Documentation (optional)
Construction Drawings
Preparation electronic drawings suitable for implementation purposes, which will include:
Construction drawings, details, specifications, tender documents and pretender cost estimates.
The Structural Engineer will take responsibility for the relevant structural aspects of   the design, including foundations, concrete floor slabs, retaining wall etc.
Co-ordination with the relevant  consultants, engineers and architects;
Stage 5: Project Administration (optional)
Periodic construction review and reports necessary to ensure that the work is being carried out in accordance with the design and contract documents;
Assistance in material selection, e.g. plants, rockery stones, material sourcing, etc.
Preparing a short list of trusted contractors to be invited for bidding. Making recommendations to the client.
Plant materials selection and placing an order to make sure that the right quality plant is purchased.