landscape
design
planning
Starting with a landscape design planning means that you'll be less likely to make mistakes or be unhappy with the results of your landscape development project. Which drawings you need will depend on the size and scope of your project, what the contractor will need to estimate and build it, and what drawings are required if submittals to municipalities or homeowners associations are required.
Our services include:
Planting Plan. Detailed planting plan and comprehensive plant list
Hardscape Plan. Drawn to scale landscape plan with dimensions and material specifications. Patios, retaining walls, steps, walkways, etc.
Lighting Plan  (Low voltage landscape lighting)
Deck design
Architectural structures concept design such us: gazebo, cabana, pool house, pergola, decorative privacy screen, fire place, outdoor kitchen, etc.
Water features design such us: waterfall, fountain, pond
Pool layout and landscaping
Grading plan
Drainage plan
Elevations and cross sections
Construction details drawings
Colour rendering
3D rendering
Permit drawings and administrative assistance
Commercial projects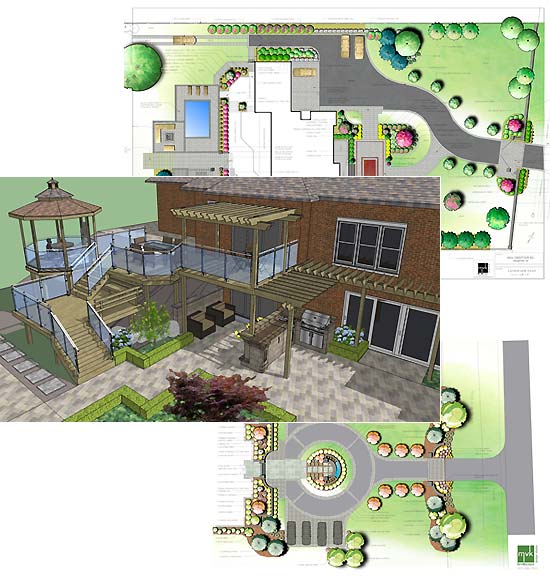 PROJECT ADMINISTRATION SERVICES
Assistance in material selection and placing an order, e.g. plants, rockery stones, furniture, light fixtures, etc.
Preparing a short list of trusted contractors to be invited for bidding, meeting with the contractors to explain the design and to ensure that the intent is understood.
Construction Observation Services.